Our Products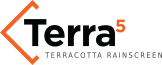 For centuries, kiln-fired terracotta has been one of the most beautiful and long-lasting building materials that construction has known and has only recently emerged as a warm and timeless medium for modern rainscreen design. By combining our terracotta panels with the System5 design approach, Terra5 is born.
As one of North America's...
Two great companies – SWISSPEARL® and Cladding Corp – haved joined forces to serve as the premium fiber cement rainscreen solution in North America. Architects, installers and owners now have the premier fiber cement panel from SWISSPEARL®, combined with a fully engineered rainscreen system by Cladding Corp. 
In line with Cladding Corp's...

Made of natural raw materials, our Ceramic5 porcelain-grade ceramic rainscreen panels are through-body colored, light-weight and economical. Pollution resistant and maintenance-free, our porcelain panels, when combined with Cladding Corp's design approach, offer an elegant, high-performance rainscreen solution at an exceptional value. Over the...