In Review: 2017 Facades+ NYC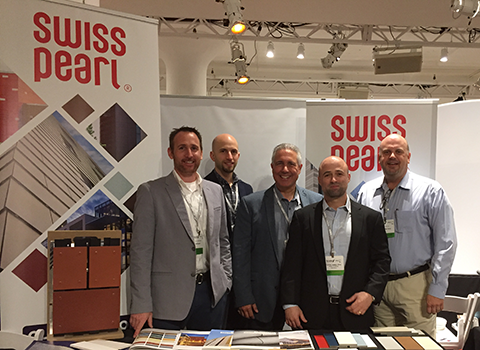 Cladding Corp, a long-time supporter of the Facades+ conference series, is grateful for opportunities like the Facades+ Symposium that create space for genuine dialogue between designers, installers and product manufacturers concerning all things building skin—bridging the profession, industry, academia, operations, and ownership. 

For those who were able to join us for the Facades+ NYC event on April 6th - thank you for stopping by the booth. The NY-based Cladding Corp / SWISSPEARL® team was excited to discuss best practices in fiber cement drained and back-ventilated (DBV) rainscreen wall design with you.  As always, Facades+ NYC has distilled the best of this dialogue into a day-long forum with a strong local flair — this time with a unique focus on the building envelope in the NYC area.
The rapidly developing technology of high-performance facades has emerged as the key to building integration, and central to the realization of resilient buildings and a sustainable built environment. By selecting a Cladding Corp fully-engineered rainscreen solution, you can rest assured that each of The 5 Principles of a properly designed drained and back-ventilated rainscreen is adequately addressed per your project's unique criteria.
Cladding Corp's engineered systems give architects and installers the needed resources to design intelligent rainscreen walls that address deep cavity systems, continuous insulation (c.i.) and other code and industry standards. Our systems for fiber cement cladding, in partnership with ECO Cladding, are also designed to give architects aesthetic freedom to incorporate concealed, lap-siding or visible attachments. There are many companies promoting fiber cement panels, but only Cladding Corp has the premier fiber cement panel plus an engineered assembly solution that guarantees optimal performance and aesthetics.