Colorful, Creative & Complete! Brooklyn's Van Sinderen Plaza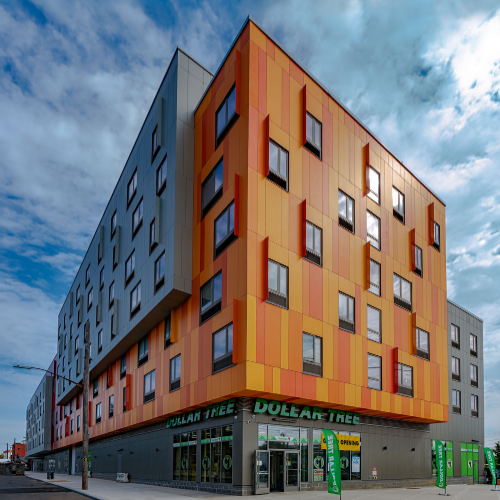 For this affordable housing complex in one of Brooklyn's fastest-growing neighborhoods, the Van Sinderen Plaza Apartments features a vibrant and sculptural Swisspearl fiber cement facade, with a pedestrian-friendly scale.
This mixed-use project features 130 affordable apartments, along with 20,000 SF of retail and community space for the surrounding area. The design team at GLUCK+ selected Swisspearl for the superior quality and performance characteristics of the air-cured, architectural fiber cement panels and developed an architectural facade that combines a wide variety of colorful, portrait-oriented panels to provide visual interest to the repetition of the overall building footprint.
Swisspearl offers products that are air-cured, a process where cement-based products cure naturally, with a 28-day curing process, that saves energy and reduces internal panel stress. An air-cured fiber cement product is always superior to an autoclaved product, as the panels are dried naturally over time, allowing for natural chemical bonding of the fibers and taking out the added heat energy and internal panel stress.
The elongated building reflects the predominant forms of the multi-story buildings surrounding the site. Where possible, the layout has been staggered to generate a form that is offset between different accommodation units, in order to reduce the scale and provide depth and create a pedestrian-friendly scale sympathetic with surrounding low-lying neighboring homes.
 
Download the 2022 Swisspearl Design Solutions Overview Brochure.
Download the 2022 Swisspearl Delivery Program - Finishes and Formats Brochure.